What equipment do I need to have to make my home office more advanced than the basic setup? How do I know which cables to buy? How do I setup dual monitors? What if I use an Apple Mac®? 
All of these questions are important ones to ask, since not many of us have a personal IT professional we can call. The Monoprice Technical Support team is well trained and fully qualified to help you determine exactly what you need, but we wanted to put together a brief overview of which equipment you might need for your specific situation. 
Advanced Office: The Advanced Office setup improves productivity with a dual monitor setup, connectivity with a wireless Ethernet option, and security with a locking file cabinet. 
Ergonomic Keyboard and Mouse: The ergonomic design of a good keyboard and mouse can improve your long-term comfort and productivity. Add backlighting to the keyboard to improve low-light work performance. 

Monitor: Whether you are using a desktop or laptop computer, a second monitor can greatly improve productivity by providing more desktop area to arrange windows, so you can simultaneously view multiple open documents and drag text and images between them. 

Dual Monitor Desk Mount: While you can place your monitors on a desk or table using the included stands, a dual monitor desk mount allows you to elevate the monitors to eye level and arrange them closely side-by-side. This reduces neck and eye strain from looking down and eliminates neck swivel from side to side caused by poorly placed monitors. 

Display Adapter: Unless your desktop or laptop computer already has two video outputs, you will need a display adapter to add the necessary video port for your dual monitor setup. You can always open a desktop and install a second video card, but laptops are limited to the ports on hand. An easier and less expensive solution for both desktop and laptop computers is available in the form of a USB display adapter. USB display adapters are available for USB 2.0, USB 3.0, and of course USB-C®, with a variety of different types of video outputs, including HDMI®, DisplayPort®, DVI™, and VGA. 

Video Cables: The types of video cables you need depends on the video outputs on your computer and the video inputs on your monitors. Most newer computers have HDMI® or DisplayPort® video outputs, but older legacy systems may be equipped with VGA or DVI™ video outputs. The following images illustrate the main video interfaces. 

                                                                                                  HDMI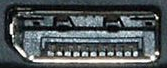 DisplayPort      

                                                                                                   VGA

                                                                                                   DVI
Headphones with Microphone: If you are working from home, you will probably be video conferencing or chatting with your team. Additionally, a good pair of over-the-ear headphones can isolate you from surrounding noise and chatter, which can be a problem in a work at home environment. Headphones with Active Noise Cancelling (ANC) are even better at eliminating unwanted outside noises, allowing you to maintain concentration and productivity. 

Ethernet Cable or Wi-Fi Adapter: While an Ethernet cable allows you to physically connect to your broadband router, a Wi-Fi® connection allows you more freedom of movement and reduces the clutter from unnecessary wires and cables. Most broadband routers have a Wi-Fi access point built-in, but if not, you can easily add a Wi-Fi access point to your existing network. Similarly, most laptops already have built-in Wi-Fi, but for desktops that lack Wi-Fi, a low-cost USB Wi-Fi adapter allows you to establish wireless connectivity with a minimum of fuss. 

Surge Protector: Protect your equipment from transient voltage spikes and current surges by using a surge protector. 

USB Hub: The USB adapters mentioned above all need USB ports to connect to your computer. Laptops usually have a limited number of USB ports, while desktops often have most of their available USB ports on the rear panel, which can be pain to access. A USB hub uses one of your USB ports to add additional USB ports that can be used for the extra USB adapters, as well as connections for charging and sync'ing your mobile devices. A hub with the Battery Charger feature is able to more rapidly charge your regular USB or Lightning® connected device, while a hub with the Power Delivery feature can power and charge your high-power USB-C devices, including laptops. 

Locking File Cabinet:

 While military grade security isn't necessary for most work at home situations, many workplaces deal with confidential trade secrets and contacts, which should be secured when not in use. A locking file cabinet allows you to keep confidential material safe and secure at all times, whether you are in your home office or not.

 
Apple®, Mac®, OS X®, and Lightning® are trademarks of Apple Inc., registered in the U.S. and other countries. 
HDMI®, the HDMI Logo, and High-Definition Multimedia Interface are trademarks or registered trademarks of HDMI Licensing LLC in the United States and other countries. 
DisplayPort® and the DisplayPort® logo are registered trademarks of the Video Electronics Standards Association. 
DVI™ is a trademark of the Digital Display Working Group. 
USB Type-C® and USB-C® are trademarks of USB Implementers Forum, Inc. 
Intel®, Thunderbolt™, Thunderbolt™ 3, and the Thunderbolt logo are trademarks of Intel Corporation or its subsidiaries in the U.S. and/or other countries. 
Wi-Fi® and Wi-Fi Alliance® are registered trademarks of Wi-Fi Alliance. 
AMD® is a registered trademark of Advanced Micro Devices, Inc. in the United States and/or other jurisdictions. FreeSync™ is a trademark of Advanced Micro Devices, Inc. in the United States and/or other jurisdictions. 
Microsoft® and Windows® are either registered trademarks or trademarks of Microsoft Corporation in the United States and/or other countries.