What equipment do I need to have to setup my own home office? How do I know which cables to buy? How do I setup dual monitors? What if I use an Apple Mac®? 
All of these questions are important ones to ask, since not many of us have a personal IT professional we can call. The Monoprice Technical Support team is well trained and fully qualified to help you determine exactly what you need, but we wanted to put together a brief overview of which equipment you might need for your specific situation. 
Basic Office: The Basic Office setup is designed to give you the minimum amount of equipment to get up and running with a home office. In addition to your computer, the following extra equipment makes it easy to get up and running and to work in comfort. 
Ergonomic Keyboard 

and 

Mouse

:

 The ergonomic design 

of a good keyboard and mouse 

can improve your long

-

term comfort and productivity.

 

Monitor: If you have a desktop computer, you probably already have a monitor. But if you are using a laptop, an external monitor can greatly improve productivity, while reducing eye strain. You can configure an external monitor to mirror the main display or as a second display to extend your desktop area. 

Video Cable: The type of video cable you need depends on the available video output(s) on your computer and the video inputs on your monitor. Most newer computers have HDMI® or DisplayPort® video outputs, but older legacy systems may be equipped with VGA or DVI™ video outputs. The following images illustrate the main video interfaces. 

                                                                                                 HDMI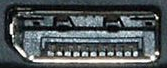 DisplayPort

                                                                                                   VGA

                                                                                                  DVI
Headphones with Microphone: If you are working from home, you will probably be video conferencing or chatting with your team. Additionally, a good pair of over-the-ear headphones can isolate you from surrounding noise and chatter, which can be a problem in a work at home environment. 

Ethernet Cable: You will need to connect to the internet for most work at home situations. An Ethernet cable is the minimum required for connectivity to your broadband router. 

Surge Protector: Protect your equipment from transient voltage spikes and current surges by using a surge protector. 
Apple®, Mac®, OS X®, and Lightning® are trademarks of Apple Inc., registered in the U.S. and other countries. 
HDMI®, the HDMI Logo, and High-Definition Multimedia Interface are trademarks or registered trademarks of HDMI Licensing LLC in the United States and other countries. 
DisplayPort® and the DisplayPort® logo are registered trademarks of the Video Electronics Standards Association. 
DVI™ is a trademark of the Digital Display Working Group. 
USB Type-C® and USB-C® are trademarks of USB Implementers Forum, Inc. 
Intel®, Thunderbolt™, Thunderbolt™ 3, and the Thunderbolt logo are trademarks of Intel Corporation or its subsidiaries in the U.S. and/or other countries. 
Wi-Fi® and Wi-Fi Alliance® are registered trademarks of Wi-Fi Alliance. 
AMD® is a registered trademark of Advanced Micro Devices, Inc. in the United States and/or other jurisdictions. FreeSync™ is a trademark of Advanced Micro Devices, Inc. in the United States and/or other jurisdictions. 
Microsoft® and Windows® are either registered trademarks or trademarks of Microsoft Corporation in the United States and/or other countries.