Thunderbolt 3 Technology brings speed and versatility to USB-C, offering a fast and simple level of connection for work and home use. Increase productivity by connecting multiple displays or devices through a single compact port, or enjoy high performance graphics on the latest Intel Core vPro processors. Thunderbolt 3 technology optimizes PC performance in a single solution.  
What exactly can you do with Thunderbolt 3? 
Speeds: Thunderbolt 3 is the current faster port on a computer to date! The previous standards included:
USB 2.0 – 480 mbps
USB 3.0 – 5 GB/s
USB 3.1 – 10 GB/s
Thunderbolt – 10 Gb/s
Thunderbolt 2 – 20 GB/s
Thunderbolt 3 – 40 GB/s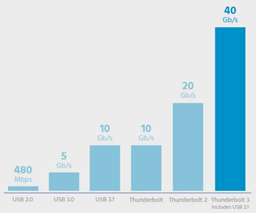 Thunderbolt 3 offers 8x the data and 4x the video bandwidth. Transfer 4K movies in less than 30 seconds. Back up a year's worth of continuous MP3's in five minutes. Capable to extend to two 4K displays, external graphics, single cable dock with two 4K Displays in native Thunderbolt 3 computers.
Power Deliver (PD): Thunderbolt 3 systems (if designed to support this by the system manufacturer) can also request to charge over the connector from a device or adapter designed for delivering power to the system, up to 100 Watts via the USB Power Delivery specification.
Displays: Thunderbolt 3 due to its speed capabilities, and transfer rate allow you to host two 4K@60Hz displays from a single port on the computer or a single 5K@60Hz on select Monoprice devices. This also is true now for Mac OS. Whereas previously, Mac OS due to hardware conflicts, would not allow for multi display functionality exceeding 1 extended display.
How do I know if I have Thunderbolt 3? 

Look for the thunderbolt logo on the USB-C port on your computer. If so, then you can take full advantage of this feature! If you are still not sure, the best place is to check your computers manual, as this will be listed as a key feature to your computer setup out of the box.
Thunderbolt 3 is an amazingly powerful technology. It is enabling a new commanding set of experiences with unparalleled speed and simplicity, while building on top of the standards based USB-C connector.